InBRO Commercial 12 Thread Colors Single Needle - Self-Threading Embroidery Machine

THESE MACHINES ARE TRULY ONE OF A KIND AND CANNOT BE SURPASSED.
Don't have time to change threads?
The point behind these machines is to eliminate the operator as much as possible. This machine AUTOMATICALLY THREADS ITSELF. This machine will also back up and rethread itself and automatically starts sewing again without the operator ever having to touch the machine. It's revolutionary!
Outstanding embroidery inBRO's machines can operate/analyze in software mode. Repeat function 1 design can be repeated off the X or Y axis. This application is ideal for patch embroidery or repetitive embroidery requirements. Send multiple designs to the machine at one time, or you can load them from a floppy disk or a USB cable
All automatic re-threading, color changing, laser sensor technology
No other embroidery machine can automatically rethread a thread back in to the needle except this embroidery machine. All other embroidery machines stop when the thread breaks and waits until someone comes and trims the broken thread and rethread it into the needle


Main Features and Accessories
Features include on-screen editing, automatic origin return, thread trimming, color change, detection of thread breaks, a trace function, and the ability to sew flat items, caps, and tubular products. Users can rotate designs in 1° increments and update software from the floppy-disk drive. An adjustable table allows for changes between cap, flat, and tubular products. The frame moves forward and backward to skip stitches or change colors.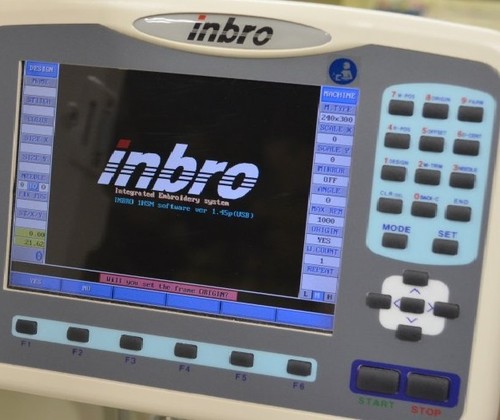 Interactive On Screen Menu

Floppy Disk, USB or Serial Port

Tool Box

Stand and Compressor included